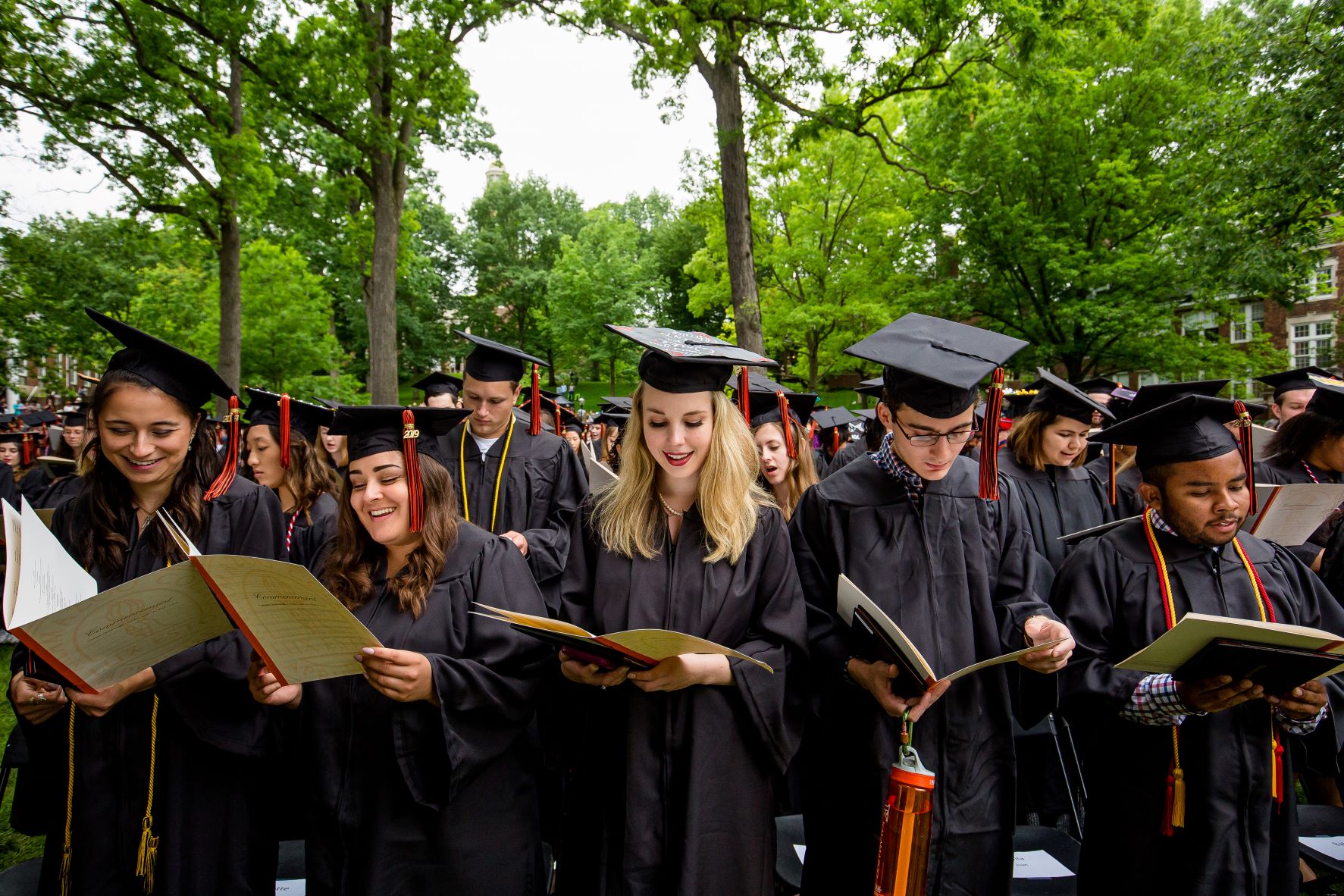 Information for Seniors
Dates and Deadlines
Details for Seniors
Commencement Rehearsal

Seniors are required to attend Commencement rehearsal in Dalton Theatre on Thursday, June 8 at 4 p.m. Rehearsal starts promptly at 4 p.m. so please arrive early! Casual attire is suggested. Pertinent information is covered at this time, as well as a review and rehearsal of an intricate senior line-up. Please make every effort to attend. Rehearsal will start inside of Dalton Theatre and end on the Quad. Please be prepared for any kind of weather.

If a student needs to be excused from this rehearsal, please contact the Office of Alumni Engagement at alumni@kzoo.edu.
Before Commencement Rehearsal – Snacks and Stoles (Private Event)
Before Commencement Rehearsal, the Office of Intercultural Student Life will have a small private event to give out Commencement stoles for certain student groups. The event will take place on Thursday, June 8 at 2 p.m. at the Intercultural Center.
The stoles are for the following:
First-Generation College Students, LGBTQ+ Students, Latinx Students, Mexican Students, Black and African American Students (Kente Cloths), South Asian Students (Multicultural Lotus) and Asian American/Pacific Islander Students.
After Commencement Rehearsal – Senior Picnic
There will be a senior picnic on the patio of Stetson Chapel after Commencement rehearsal sponsored by OSA.
Commencement Ceremony Details
Absence from Commencement
All seniors are expected to participate in the Commencement Ceremony. If you are unable to attend the ceremony, the Office of the Registrar must be informed as soon as possible at regist@kzoo.edu. The line-up is configured by everyone's participation, so it is very important to inform the registrar of your absence. If we don't hear from you we are assuming you will be at the ceremony and included in the line-up
Commencement Ceremony

The Commencement Ceremony will take place on Sunday, June 11 at 10 a.m. on the campus Quadrangle. The ceremony will last approximately two hours and thirty minutes and it will take place outside rain or shine! There is no limit to the number of guests you can invite to campus for 2023 and there are no rain tickets. Please make sure you and your family are prepared for any kind of weather! If a family member cannot attend the ceremony in-person, it will be livestreamed.

While commencement will take place regardless of the weather conditions, in the event of heavy rain showers or severe weather (thunder/lightning observed or anticipated), the commencement ceremony may be delayed by no more than three hours. Communication about a delay would be sent via K Alert, social media and email no later than 8 a.m. on Sunday, June 11.
All seniors should meet inside of Dalton Theatre in your cap and gown no later than 9:30 a.m. on Sunday, June 11.
Please visit our schedule of events page to view the schedule for Saturday, June 10-Sunday, June 11 which will include the senior awards program, the senior music program, departmental receptions and baccalaureate. Specific event times and locations will be added as events are confirmed.
Commencement Photos

The College has an agreement with Graduation Foto to take a photo of each senior as they accept their diploma and exit the stage. All seniors must fill out the Graduation Foto contact information form in order to receive a proof of the photo taken during the ceremony. After Commencement Weekend, graduates will receive information about ordering keepsake prints.
Past Dates and Deadlines
Grad Fair – April 19 and April 20

A grad fair was held on Wednesday, April 19 and Thursday, April 20 from 10 a.m.-4 p.m. at the Kalamazoo College Bookstore.

Seniors will have a chance to purchase their cap, gown and tassel online or at the bookstore up to Commencement Day.

Please contact the Kalamazoo College Bookstore at 269.337.7318 if you would like to still purchase graduation announcements and other commemorative items.
Application for Graduation

Please complete the Application for Graduation form and submit it to the Office of the Registrar.

You should complete and submit this form if:
You plan to graduate in March/April, June, December, September.
You plan to participate in Commencement (walk) in June and expect to have completed at least 27 academic units (exclusive of PE) by the end of the Winter quarter or 30 academic units (exclusive of PE) by Commencement.
Please note that the Graduation Application is due by May 1st to allow processing time for commencement. Students who submit graduation applications after this date will have their legal name printed in the commencement program and announced during the ceremony.
Tell us where you're heading…
First Destination Survey through Handshake
Each year, Kalamazoo College's First Destination Survey helps the College measure the impact of your education and helps current and prospective K students see where recent grads are heading. You may not know what your next step is after Commencement. That's okay – you're not alone! Typically grads secure their first destination within six months after completing their degree, and the survey can always be updated once you are settled. The survey is available and failure to complete this survey may impact your ability to graduate or receive your diploma. The CCPD services don't ever expire and the staff is here to help you even after graduation.